21 Day Fix Results are in!!!!!! My husband and I did it together! Faithfully everyday! He followed the meal plan to a T and I of course got my sweet tooth involved =(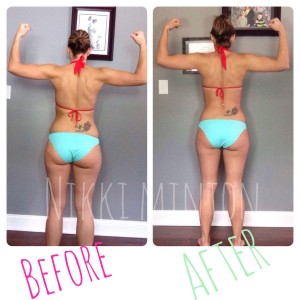 My Day 1 stats: 136lbs
Rt and Lt arm 11 in
Rt Thigh 21 1/4 and Lt 21 1/2 inches
Waist (ribs) 27 Belly button 30 and Hips 34 1/2
Chest 33 1/2 inches and Butt 38 in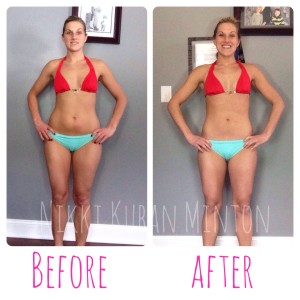 My after stats: day 21 131.2lbs
Rt and left arm 10 3/4in
Rt and Left Thigh 20 3/4 in
Waist (ribs) 26in Belly Button 29in and Hips 33 1/2 in
Chest 32 3/4 in and Butt 37
My biggest indulgence was Girl Scout Cookies, so no i did not stay away from sugar!!! If I would have my results may have been better!!! BUT I am happy with where I got! The 21 day fix is an AMAZING program and has changed my outlook on food and portions!
Now my hubby's results are AMAZING!!!! He followed the meal plan to a T, I packed every day for him all 6 meals and he went on his way to work! We worked out in the morning before he had to leave for work and lets just say, i am PROUD of his dedication to 30 minute workouts (he did not think it was long enough to give him results!)
Day 1: 212lbs
Rt and Lt Arm 15 1/4 in
Rt and Lt Thigh 23 1/4 in
Rt and Lt Calf 16 in
Chest 40 1/2
Waist (ribs) 36 1/2 Belly Button 40 and Hips 37 1/2
Day 21 stats: 201lbs
Rt and Lt arm 14 3/4 in
Rt and Lt Thigh 23 1/2 in
Rt and Lt calf 16 in
Chest 42 1/2
Waist (ribs) 35 in Belly button 37 1/2 and hips 36 12/ in

Together we conquered this program and let me just tell you, this is what a #fitfam looks like! Workout together, eat the same food, grow together, and have the same passion! It was not always like this and some days are not always sunshine and rainbows! But the more we do it TOGETHER and the more we push each other, the more we grew together and individually!
TOGETHER FOREVER and guess what, YOU CAN DO IT TOO!
It does not have to be a spouse, grab a friend or virtual success partner in a group! WE ARE HERE FOR YOU!
Comments
comments