This is the Message I got that posed my blog for today =) "I need some advice! Lol! During the day while I'm at work I do great with drinking my Shakeology and eating the 21 day fix meals however when I get home I really have a hard time controlling myself from the cupboard.. When I get home all I want to do is eat, eat, eat, and I don't know what to do and my weakness is peanut butter! Thankfully most of the things I eat when I get home are healthy things but sometimes I go overboard even in healthy food especially on the PB when I get home I feel like oh I worked out I can eat this and be okay then I eat to much for my portions from the 21 day meal plan and then the next day I feel awful and guilty about doing it…what should I do!?"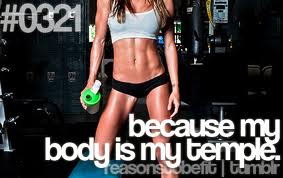 I use to be the same way!!!! Everything sounded good and I would rationalize in my mind why I deserve to have what I wanted. I workout so I should be able to eat whatever I want-> Wrong 80% of your results come from the foods you eat. What you eat in Private shows to the PUBLIC =)
I use to think" 1 handful of goldfish are fine, they won't ruin my progress. But goldfish or sweets every night over the course of months can make a difference!!!!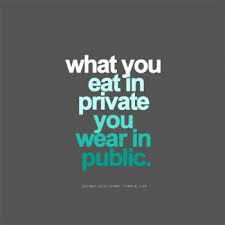 So put on your big girl pants and visualize a stop sign, the kitchen is closed. Grab some green tea and get your mind busy! Your results depend on your ability to overcome obstacles and flex your will power muscles!!!! Throw the  junk and crap away… I had to get rid of Peanut butter for that reason, I would sit and eat it… then another spoonful, one more won't kill me!
But also have everything prepped so when you get home your snack is ready while you make dinner!!! ALSO start setting times to eat, set alarms on your phone so you eat every 2-3 hours and say ok no fruit after 4pm or NO carbs with dinner…. the more you eat throughout the day… the less you want food at night!!!
ALSO DRINK YOUR WATER! Make sure you drink 8-16 ounces between meals! When you get hungry chug water!
Somoeone posted this picture and it seems wrong, but if you don't want to be who you were stop acting like that person! CHANGE FOR YOU! Don't ruin your hard work for a simple snack!
Do you need extra accountability to reach your goals? Join me for a FREE support group to keep you on your toes! Results or Stay the same…. your choice =)
Join us FREE here
Comments
comments