Whole 30 Week 2 in Review… This week had its ups and downs…

Week 2 started out great! I felt amazing, still had a cough.. and by wednesday (day 10) I was off to the Urgent Care (DR) because my son started the cough and I needed to be able to say this cough wasn't anything serious… WELL Antibiotics it was and thats when my mood and body went down hill =( I just felt nasty, icky, and worse than before the antibiotics! So I am pushing through and today is day 6 of the antibiotics and so I will finish them in time to rock the last 10 days of whole 30… BUT i have stayed complaint and eating my normal foods on my meal plan even without an appetite and only wanting bad sweets… I will have a piece of fruit, coffee with coconut oil blended, or a larabar to overcome that craving! WE SUCCEEDED week 2!
As They Say… Don't drink Shakeology with on Whole 30, I again need it for my health! I don't feel Shakeology has anything bad in it- so I don't think I personally need to eliminate it from my body… which Whole 30 is an elimination diet of the bad (sugars, dairy, legume, and grains) to see what is negatively effecting your body!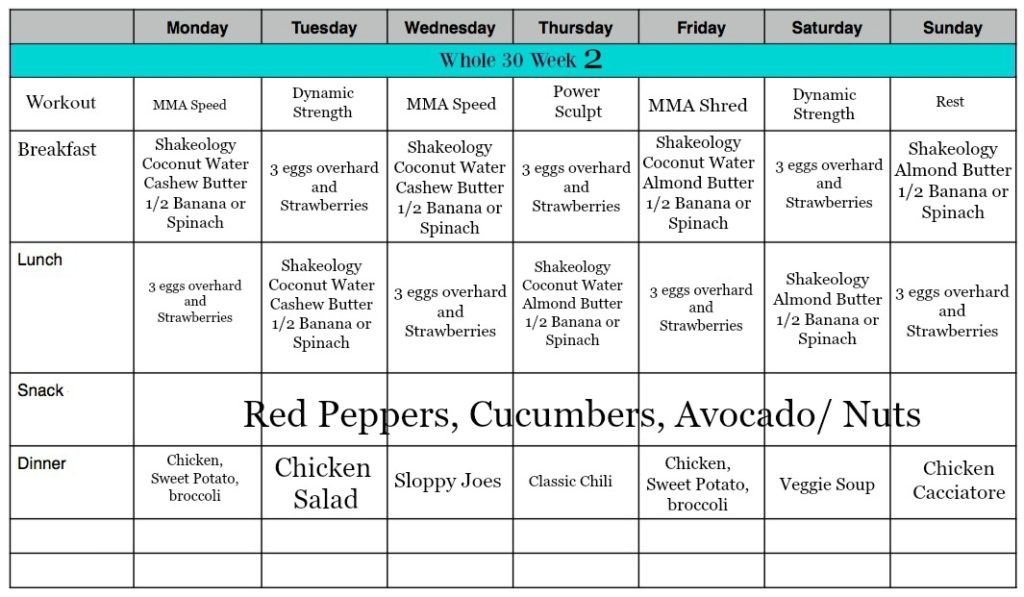 Whole 30 Sloppy Joes: 
Recipe: 
Meat
1 lb Ground beef (i used Ground Turkey)
Produce
1/2 tsp Garlic (minced)

3/4 cup Green pepper

5 Medjool dates, pitted (i did 4 on second try- 5 was too sweet for us)

1/2 cup Onion

1/2 tsp Parsley, dried (omitted)

1 Russet potatoes
Condiments
1 tbsp Dijon mustard

1 8oz can Tomato sauce (i used marinara) 
Oils & Vinegars
1 1/2 tbsp Apple cider vinegar
Liquids
Directions:
Brown ground meat

Add onion, garlic, salt, and green pepper. (and parsley if you use it)

Put dates into 2/3 cups of boiling water for 30-60 seconds, take pits out and blend in blender.

Add tomato paste and sauce to date mixture in blender.

Add Dijion Mustard, Apple Cider Vinegar to meat mixture. 

Add 2 tbsp of date water to your sauce mixture and then add to the meat. 

Bake potato or cook in microwave for 5-7 minutes. 

Put Sloppy Joes over potato and enjoy! 
Needless to say, I am ready to push through the second half of this program! 
Comments
comments