Hey Everyone! I am excited to update you on how week 1 of Whole 30 went!  I will share recipes and my meal plan, along with how I felt each day!!!
Here is my meal plan for Week1 
I did switch out the eggs and avocado for eggs overhard and strawberries towards the end of the week and added my avocado into my Shakeology (which is not Whole 30 approved but my body will NOT go a day without it!)
Every Recipe we did was good! I am not a Red Meat Girl, so the Beef was not my favorite- but it was Hubby approved!
Shredded Beef Recipe:
(Feeds 4 or more)
3 pounds of Beef Roast (I used eye round beef)

6 cloves of Garlic (minced)

1/2 cup cilantro ( i omitted bc I don't love it)

1 lime

1/2 cup Apple Cider Vinegar

1/2 cup water

1/2 cup EVOO

2 TBSP of Cumin

1 TBSP peppercorns

1 TBSP oregano

1 TSP Sea Salt 
Combine Lime Juice, Garlic, and Cilantro-mix well and Marinate meat for 4-48 hours.

Add All Ingredients in crockpot on low for 6-8 hours or until meat pulls apart.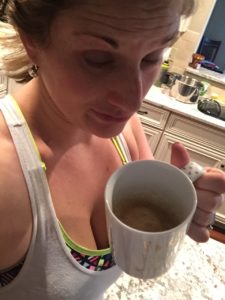 MY EMOTIONS AND FEELINGS!
Day 1: I was ANXIOUS, I wanted to make sure I followed the plan to a T and was making sure I was on top of any craving or hunger- I kind of made myself overwhelmed!
Day 2-3: Was Normal- tired by 7pm and not starving, I was truly satisfied!
Day 4-5: I woke up with a headache or burst of energy and a slight headache in the late morning. Coffee Black and a glass of ICE water helped!
Day 6-7: I was awake, and touchy with my emotions. I was fine then would cry over simple things or I would get testy. And I wanted to SNACK on day 7- just because I was laying around the house.
Nothing not normal with a detox! a few aches and pains, a little hunger, and a few cravings! When you are use to eating 5-6 meals a day… going to 3 is HARD! This week I did have a snack, and I will continue to do so in week 2- I am a nursing momma- So I do have to make sure my water and calories are up! ALL HEALTHY AND WHOLE 30 COMPLAINT (minus my shakeology).
If you have any questions: Don't hesitate to ask!
Comments
comments