So As Many people say they can't stay on a Diet or Meal Plan if they do not like the food! WELL ME EITHER!!! So with Tosca Reno's Eat Clean Stripped Diet I looked at Week 1 and just took the Meals that I KNOW I will eat and help me stay on track and I incorporated those into my week!!!! My husband and Friend Melanie Mitro are doing it as well so I HAVE EXTRA Accountability!!!!!!
The reason I decided to do this Meal Plan for the next 4 weeks is because I got off track of eating clean and I will be going to Coach Summit in Vegas in 30 days!!!!! So it seems just perfect to get back on track and possibly lose those last 10 POUNDS!!!!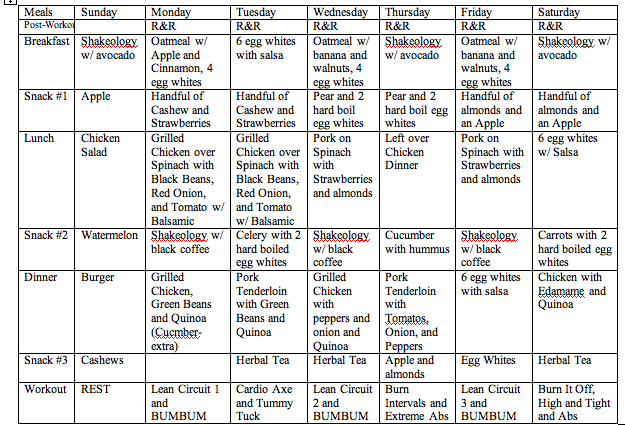 Yes I am repetitive with my foods, but I don't eat fish and so these seem to be the only lean proteins I can incorporate! I will TRY fish next week!!! I am also in the last Phase of ChaLEAN Extreme– and As I said Vegas is in 30 days- so I am doubling with Brazil Butt Lift and going to Fit Club On Tuesday Nights!!!
I will update you WEEKLY on how everything is going and recap the week before!!!- Day 1 was great I have a ton on energy and feel motivated to get things done!!! I am running on 5 hours of sleep and feel great, later today that might be different though!!!- STay Tuned to Week 2 on the Stripped plan along with a RECAP of week 1!!!
Have Questions EMAIL ME TODAY!!!! Nminton24@gmail.com OR Join my team for FREE tips and advice on how to stay on track with your eating while trying to get HEALTHY AND FIT!!!!