Tip #7 to a NEW you is Meal Prep… WHen you have everything prepped for the week you will have an easier time to eat clean and stay on track!
So far we have covered
Tip #1: Clean Eating
Tip #2: Exercise
Tip #3: Water
Tip #4: Tracking
Tip #5: Accountability
Tip #6: Schedule
Meal Prep is something that can tack a long time, but if and when you get the routine down it will take tops and hour a week!
What does meal prep consist of? Anywhere from baking your chicken for salads and wraps to cutting all veggies and fruit for the week!
Wash and Cut fruits and Veggies and put into individual bags or containers for the week! 
Bake all of your chicken for the week! If you are cooking for just you or the whole families lunch, Bake 6-10 chicken breast on SUnday or your meal prep day! (put on baking sheet, add seasoning, and cook on 375 for 25-30 minutes, turn once!)
Cook a large batch of Quinoa plain, and then the night before or that day add your spices and veggies for lunch or dinner, or your berries for breakfast! all you'll have to do is cook in warmer for 5 min and it will be done, unless you eat old!
Individually put your salad with veggies in containers so that you just have to cut and add chicken/protein!
Cut your dinner veggies and place in bags so that when its dinner time, you just have to cook!
Make a large crock pot clean dish (ideas @ graciouspantry.com ) and freeze for the week! Take out for lunches or dinner!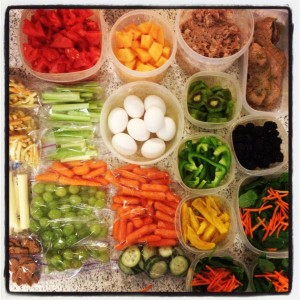 If you are in the "warmer" climate: Grill out! This is a picture from summer meal prep for my family!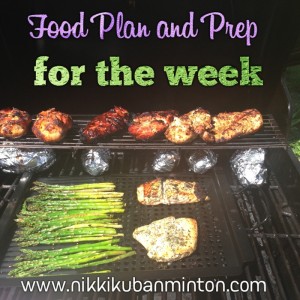 Meal prep will be however and whenever you decide! You can spend the extra $$$ at the grocery store and by "pre cut" fruits and veggies and meal prepped veggies (stir fry and stews) but if you are in a budget: do it yourself! It honestly does not take long!
If you prep and bake chicken first, cut fruits and veggies, take out chicken, and individually package your salads, you will be done! Label it if you need (dry eraser makers are great! or labels!)
What is one thing you NEED to prep and one thing you have a hard time prepping? Post BELOW!
Need more tips and ideas? Sign up for my FREE newsletter here!
Comments
comments