I knew I was heavier than I should be—I always wore black, always hid in the back row of photos, and even made "fat" jokes about myself, but the day my 10-year-old son came home and told me that his health class talked about me was the day I truly hit rock bottom.
When I asked him to explain, he said they didn't mention me by name. But when they talked about the effects that being overweight has on a person, he immediately started thinking about me. And when his teacher said that overweight people can become depressed and even suicidal, he started crying because he loved me and didn't want me to die just because I was fat.
How could I not be moved by that?
So I went straight to a friend who was a Beachbody Coach. She smiled and told me about 10-Minute Trainer, thinking it would be a great way for me to get started. And it was. 
Pretty soon, I wasn't doing just one 10-minute workout a day, I was up to three! And I loved it. At first, I had to modify some of the moves, because I couldn't do them. But I kept at it and by the end of the program, I was able to do the moves AND keep up with Tony and the girls in the video. The calorie burn was awesome.And guess what? I've lost 31 pounds and 23 total inches. I FEEL stronger. I walk with a purpose and a sense of pride I haven't had in years.
And when I run into people I haven't seen for a while, the look on their faces is priceless. They are amazed at my transformation and I love it! My self-confidence is through the roof and I feel like I can accomplish anything. My next goal is to complete P90X and now I know I can do it!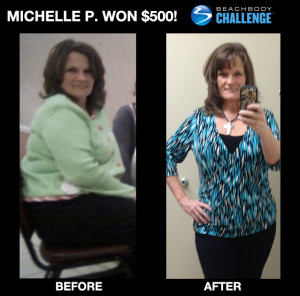 All I can say is "thanks, Beachbody," and thanks to my Coach, Tammy, for saving my life!
Best of all, I feel so great that my son has watched me through this journey. We exercise together. We play together. And hopefully, I've motivated him to continue along the same path!
Take the Challenge