I love to see success stories like these because people don't think it is possible to reach goals when you use a "low impact" or shorter workout, or weights "bulk you up." Stephanie Shows you that you can drop weight and tone with any program as long as you stay consistent!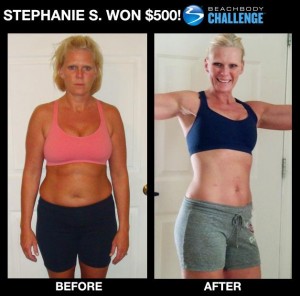 "Back fat. Flabby arms. Cellulite on my legs. I hated my appearance and was far from where I wanted to be. To make matters worse, I was taking steroids for an autoimmune disease and had no energy at all. Then, one day, I saw a picture of how in-shape I was in high school. That's when I knew something had to change.
I contacted a friend who was a Beachbody Coach. Since I'm all about the quick fix, I chose the six-week program, Slim in 6®. I lost 17 pounds! I also loved working out to the motivational music of LES MILLS PUMP. Another HUGE part of my success is Shakeology®. It gives me more energy and I will never stop using it.
Now I'm so much happier with my body. I've lost weight, gained muscle, and am finally able to wear a bikini again. Best of all, I've changed my way of thinking. Working out is now part of my day—not a chore!"
Take the Challenge NOW
Comments
comments