I absolutely LOVE Mexican food and would eat it everyday if I could, so I had to find a great Fajita recipe to make my own!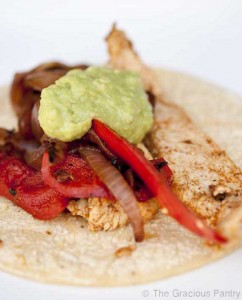 Clean Eating Fajitas from Gracious Party
(Makes approximately 6 cups of filling)
Ingredients:
1 large red bell pepper, sliced thin lengthwise
1 large yellow bell pepper, sliced thin lengthwise
1 large orange bell pepper, sliced thin lengthwise
5 raw, boneless, skinless chicken breasts, sliced thin lengthwise (about 7 oz. each)
1 large red onion, slice thin
1 tablespoon garlic powder
1 tablespoon onion powder
1 tablespoon chili powder
1 tablespoon ground cumin
1 tablespoon olive oil
2 packages of small corn tortillas, no sugar added (24 total)
Directions:
Saute' everything in a large pan, adding the spices about half way through.
Nutritional Content:
(Data is for 1/2 cup filling)
Note: Data does not include tortilla
Calories: 149
Total Fat: 5 gm
Saturated Fats: 1 gm
Trans Fats: 0 gm
Cholesterol: 38 mg
Sodium: 46 mg
Carbohydrates: 6 gm
Dietary fiber: 1 gm
Sugars: 2 gm
Protein: 20 gm
Estimated Glycemic Load: 2
I use Whole Grain Tortilla's, Quinoa and Corn Tortilla Chips for chips and salsa, Brown Rice, and Black or pinto beans as a side!
Comments
comments