I love my banana's and my family absolutely loves Banana Bread, we are a sweets family so I needed to find a recipe that gives us the flavorful Banana Bread taste and the healthiness of a clean recipe! So I researched it and played around with it a little but this is what I came up with! It is hard to make this too often because I eat all of the muffins, so I make it when I really need something sweet or in the mood for cake!
I am making some as I type this and cannot wait to enjoy it!!!! I hope you enjoy it as well!!!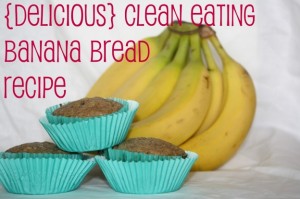 (original recipe from youputiton.com and graciouspantry.com and I made my own)
1/2 cup coconut oil, melted
1/2 cup Honey
1 egg and 2 egg whites
1 teaspoon vanilla extract
2 cups whole wheat flour, almond flour, or oat Flour
1 1/2 teaspoon baking soda
1/2 teaspoon sea salt/ Himalayan Salt
1/4 cup almond milk, soy or rice milk
1/2 cup applesauce unsweetened (I make my own here is the recipe )
1 teaspoon of cinnamon (if you use your own sugar free natural applesauce)
3 mashed bananas (i use very ripe bananas that have been frozen and let them thaw- i feel they add a better "flavor")
Nuts Optional for top! (I like walnuts)
1. Preheat oven to 350 degrees, I always do muffins rather than a loaf because it cooks WAY faster. So either prepare your muffin tins with cupcake papers or wipe your loaf pan with EVOO (or coconut oil)
2. In a large bowl, stir together the melted coconut oil and honey. Add the eggs and vanilla, mix well. Combine the flour, baking soda and salt, stir into coconut oil/honey mixture until smooth (although it didn't ever get that smooth). Fold in the applesauce and mashed bananas.
3. Spoon mixture into cupcake papers, fill to 2/3 full. Bake for 15-20 minutes (60 if you are using a loaf pan) or until a toothpick inserted into the center comes out clean.
Enjoy!
Comments
comments