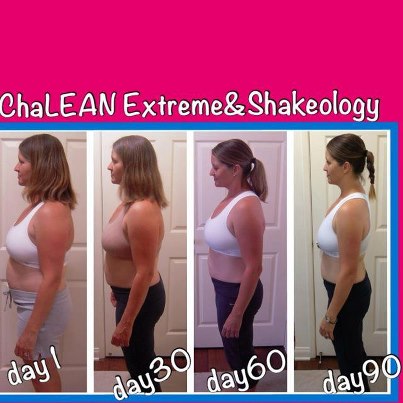 Anna Marie Lost 19lbs and 4 pants sizes in just 90 days!!! HOW AMAZING! By Changing her ways, she changed her life! To drink 1 shake a day and workout TOPS an hour a day and get results like these in just 3 months is fantastic! She started her journey @ 174lbs, and a size 12… on day 90 she weighed in at 155lbs and a size 8!!! CRAZY =)
How would your life change if you would be able to get to where you wanted to be in just 3 months? I know my life changed dramatically when I completed P90X and Shakeology! I was in a better mood, felt better in my skin, and got complements when I went out!
DID YOU KNOW:
You can permanently and safely lose more than 100 pounds in just 9 to 10 months.
You can cut body fat by 50% in less than 90 days.
You can drop a pant size in one month.
You can lose 5 pounds this week.
You can change the way you feel and increased energy in just 3 days.
Your mental disposition greatly impacts your success. Instead of focusing on how far away you feel, focus your attention on how close you are to your very short term measurable goals. You're closer than you think! Set some goals for the next 3 days, 5 days, 1 week.
Sometimes it feels like we will never hit our mark. So instead of asking "are we there yet?" Continue to tell yourself you are closer than you think! You can do it!
Do you need a change? Are you waiting for the SIGN? WELL THIS IS IT NOW!
***First 3 COMMITTED TO My NEW YEAR GROUP  get a FREE GIFT!!!
Comments
comments