Rank Advancements as Beachbody coaches means that these individuals are advancing their business by helping others grow as well! They have others joining their teams that want to help others with their health and fitness journey!
First up is Amanda! Congrats to Amanda Dengler for reaching Emerald this morning in her Beachbody Coaching Business!!!!!
What does Emerald mean— It means Amanda got 2 coaches to join her team and now she is growing her team and eligible for Leads and Cycle Bonus' through Beachbody 
WAY TO CRUSH IT!!!
Next is Melissa!!! Congrats Melissa Solomon on an AMAZING month in September but most of all for advancing your BIZ to EMERALD!!!! That is a huge step in your business!
Helping people is your forte! I love seeing a smile on your face and your drive is contagious  WAY TO GO GIRL!!!!!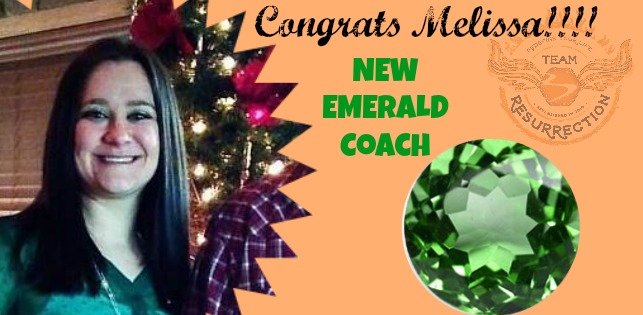 and Maria =) EMERALD ALERT!!!!!! Maria Adler Cain joined us in late August after being a client of mine for 2 years We met at fit club and ever since I have seen her passion for health and fitness! She is a nurse, but mom right now with her gorgeous little guy Noah!!! 
She was determined to help those she knew and get them on track along with herself after having her baby boy! She has been a fighter through this journey and every little hiccup is only making her a stronger leader!!!! She is determined, passionate, and driven to succeed!!!
I cannot wait to watch you grow!!! You are an amazing woman and I am blessed to know you!!!!
Congrats on an AMAZING September and reaching Emerald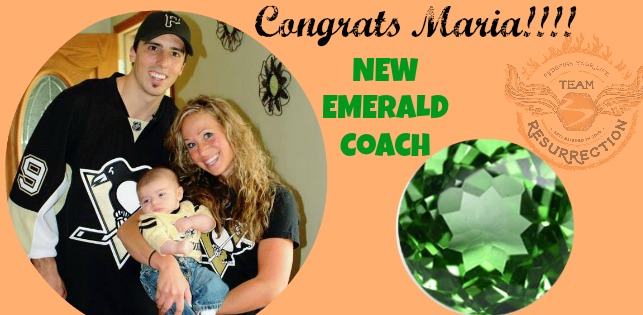 Those are our Emerald coaches that have advanced their business by 2 active coaches =)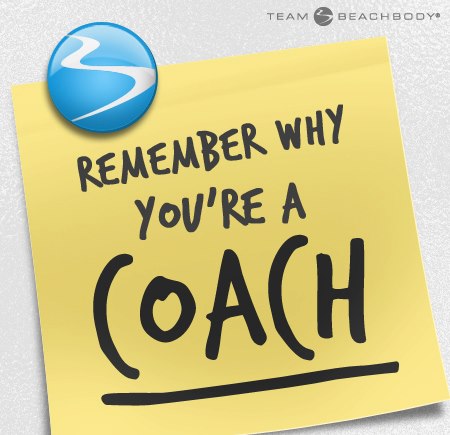 We next have coaches that have advanced their business by duplicating the success of Emerald and Diamond!
First up we have a RUBY COACH, Mrs. Krystal! This girl right here!!!!!! I don't even know where to begin! I am beyond excited to see her advance her business this morning (something neither one of us realized!!!!) BUT this is huge!!!!
Krystal Mitchell has one of the BIGGEST HEARTS I know! She is determined to create a better future for her family and friends around her! From day 1 her WHY has been huge, if you haven't seen it on her page maybe she will share it soon  but Krystal has a drive and passion to help others while helping herself in her health and fitness journey!
Krystal's husband travels for work so she sees him for a few hours on the weekend, she drives a crazy drive to and from work, just to make sure they are able to provide and get by! To see this girls passion and drive it makes me cry! She is so loving and caring for everyone else!
She came into my life when I needed someone to love on and care for (thats my nature), but she has taught me how to be strong! No matter what she is faced with she is a fighter!!! STRENGTH looks good on you 
Krystal- you are 1 step away from Diamond and I know we will see you shining bring next thursday  But until then Congrats on Ruby and keep shining BRIGHT!!!!!!!!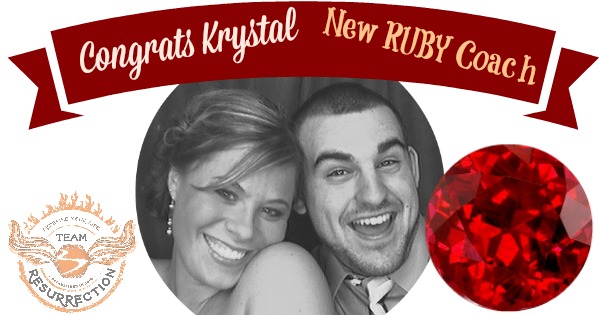 and last of the day is Mrs. Nataly advancing to 2 Star Diamond, which means she has developed 2 Diamonds on her team! 
HUGE CONGRATS TO THIS LOVELY LADY!!!!!!!!!!!!!!!
Nataly Brooke Price is not only a great friend, but she is an AMAZING AMAZING LEADER on my team!!!! She leads by example and is truly invested in each and every one of her coaches and challengers!!! 
Nataly is a BUSY BUSY BUSY LADY!!!! She is a mom to a 2 year old, a wife to an awesome supporting husband, she works full time for the NH Atheltics Dept (which means she is at every football game now that it is fall), she is a softball coach, and a Beachbody coach!!!! She has never taken the "too busy" excuse….
She is one that will take every negative and find a way to make it a positive and she strives to be better than she was the day, week, month before!!! She is so strong, dedicated, and reliable!!! I love this girl with all my heart and to think she grew her beachbody business from emerald to 2 star diamond in just 8 short months is nothing shorter than amazing!!!! 
I cannot wait to watch you crush your goals for the rest of the month—- all while only having time to eat, sleep, and breath  LOVE YOU GIRL!!!
These individuals are amazing leaders and have a drive to succeed in health, fitness, and the financial reward Beachbody gives them! They have passion to help others and a drive for success!!!! I am so proud of each of these ladies in advancing their business'!
Do you like helping others or enjoy health and fitness? Beachbody Coaching may be what you need in your life =)
Fill this out and I will be in contact to help you lead a successful and healthy life!
Comments
comments