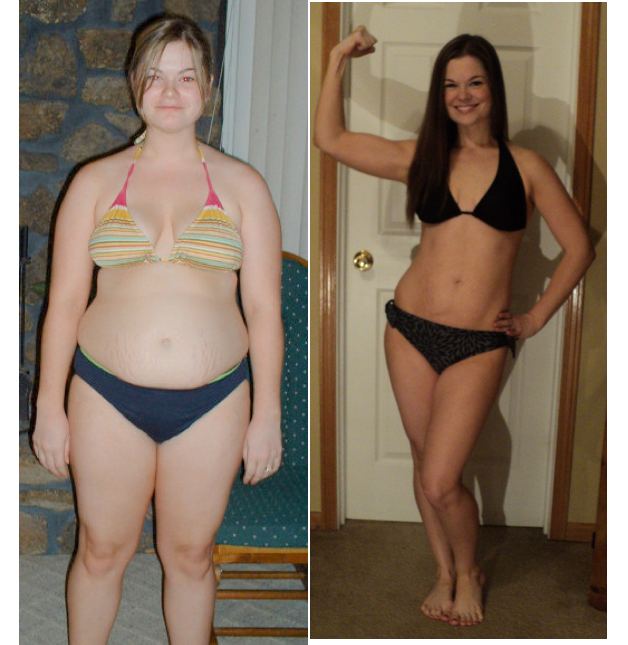 My Stats

BEFORE
AFTER
Weight
168
128
Dress/Pants Size
14
4
Waist
31
25.25
Hips
41
36
Chest
37
33
Right Arm
13
10.75
Left Arm
13.25
10.75
Right Thigh
24.5
20.75
Left Thigh
24.3
20.75
Body Fat %
0
as-of
01/13/2012
Jessica S.
LOST 40 LBS, and 5.5″ off WAIST! Went down 5 dress sizes!
"I have toned arms and legs and my stomach is better than I could have hoped! I LOVE FITNESS NOW."
What Jessica S. won:
$1,000
Tell us about your life before you started the program. How did you feel about yourself and your body?Before I started I was a sedentary, insecure shell of who I am now. I got married at 21, got pregnant immediately and due to medication, was unable to lose the weight that I'd gained. I suffered from depression and anxiety. I HATED going in to my closet and would just cry after trying on outfit after outfit. WIth a very strict diet I lost a little weight right before I got pregnant with my 2nd daughter, but had a very inactive,junk-food filled pregnancy. After the birth of her, I was a 170lb, 24 yr old. I didn't want to go out to social functions because no matter what the weather, I was going to have to figure out what body slimmer, or girdle, or sweater I was going to to wear to make my body look "OK". I got to the point where I thought I was too worthless to exercise. I was so ashamed of myself. I wanted to go out, and be active, and live life like a young woman in her 20's with two beautiful daughters and an amazing husband should, but was too disgusted to even try.
What inspired you to change your life and begin your transformation journey?What inspired me to begin was a picture taken of me at a family dinner. I didn't even recognize myself. That was not me. I am fun. I am not tired. I am excited about life, and active. That was NOT who I saw in the picture. My mom saw how upset I was and said, "you have to try this workout. It's called TurboJam." She turned on the dvd and I watched this tiny energetic blonde woman, dancing and kickboxing along side other beautiful bodied, energetic women. "Those are all models that signed up for some casting call and got in the dvd." I said. Then I watched more and the energy was pulling me in. I listened to the testimonials of the REAL WOMEN doing TJ and realized, "they are NOT models. They are MOMS, they are people that are working their butts off to be like they are!" I took the dvd home and worked out to it that night, 4/12/2008. As I punched and kicked and pumped away with a smile on my face, my husband looked at me and said, "this is the thing that's going to change your life"
Why did you choose the particular program?
I chose
TurboJam
, because of the amazing energy of Chalene Johnson. She is an incredible motivator and so fun to work out with! The women in the dvd's are REAL. They have weight struggles, they have kids, and they have amazing bodies and outlooks on life. I had NEVER stuck with a workout program or been excited to do a workout day after day. But, TJ changed my life. It changed my attitude. It's such a fun, dancey, party workout that I couldn't help but love it and I sweat like I'd never sweat before! TJ also had so many different workouts to choose from. I started out doing just the 20 minute and AbJam for the first month and still lost 10-15 lbs. Then I revved it up with CP3 and the Live workouts and shed even more weight. It is such an amazing program with tons of variety. Over the years, while maintaining my weight I have had great success with Chalean Extreme and am currently killing it with TurboFIre! Talk about sweating! These programs are amazing and I can't get enough!
What in particular did you like about the program you chose?
The results!
TurboJam
and the other Chalene Johnson programs WORK. I lost 40 lbs doing TurboJam and eating a healthy diet. I've kept the weight off for 4 years through TJ, TurboFire and Chalean Extreme. That is stunning to me! I couldn't have done it without such an amazing program and fantastic motivator. I felt like I was IN the class with those people. I felt like I knew them, and it made me want to class. It made me push harder than I ever thought I could. It made me sweat and burn and dig deep and that's what gets results! I am a different person than I was 4 years ago because of these awesome programs.
Tell us about the greatest challenge you faced. How did you overcome that challenge?The greatest challenges I've faced all have to do with motherhood. I got pregnant with my 3rd daughter just 5 months after reaching my goal. With my other pregnancies I ate terribly and was completely inactive. Not this time! My third pregnancy was amazing. With my dr's consent I continued TurboJam and stayed active thanks to the confidence and energy I had gained from the months of training I had just completed. I gained a healthy ammount of weight and was able to burn it off after I gave birth to my daughter. I lost the weight doing TurbJam and TurboFire and have kept it off. Any time you have a family you have to prioritize your fitness. If you don't MAKE time for it, you will never FIND time for it. I work out every night after my kids go to bed. It's my time for ME. I am better wife and mother because of it. I constantly set new goals and fire through them, but maintaing and staying in shape once I reached my goal weight was a challenge that I'm SO proud to have conquered.
Describe the results you achieved with your Beachbody® program. What achievements are you proud of?OH my! My results were fantastic. I went from 168lbs to 127 from April 2008-Sept2008 and have maintained since then. The weight loss was a miracle for me. I had begun to think I was going to be out of shape and unhealthy for the rest of my life. I dropped my dress size from 14-4! It still shocks me and I still have a hard time buying small shirts even after all of this time. I have toned arms and legs and my stomach is better than I could have hoped! Probably my favorite result though, is my change in attitude and who I am. I LOVE FITNESS NOW. I'm not scared of it. I tell others about the Beachbody programs and have inspired MANY of my friends and family to get in shape and try Beachbody workouts. I recently became a Beachbody coach and am so excited to officially get my friends involved in Beachbody! That's something I never would have done before. I'm so much more outgoing that I was before. I am no longer intimidated by in shape people. I am one of them. It feels amazing!