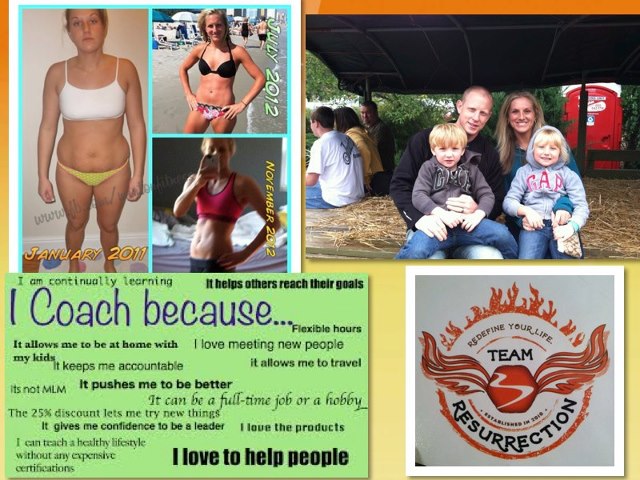 2 Years ago today I made a decision to become a Beachbody Coach, I took my credit card- paid the $39.95 sign up fee and bought my Chocolate Shakeology, I was taking a risk because 1 we were living pay check to pay check, I was using my credit card for something that I was trusting in others saying it worked, and I was at ROCK BOTTOM emotionally, physically, and financially!!! I was using P90X and Shakeology daily and with the help of our support group getting tips on how to eat (because I had no clue how to) The support was AMAZING!!!!! That I asked a few friends if they wanted to join me and they said sure, what do I have to do… Fast Forward 6 months I was the smallest I had ever been in my life, got my husband and mom to join me on this journey, and I was able to help others achieve their goals! Through the ups and downs with my business (arguing with the hubby because he did not think it was worth it because I was not seeing the financial reward and we had just bought and moved into a house and I was a stay at home mom putting hours on end into the computer and into people I barely knew) BUT I WAS PASSIONATE and LOVED those people I was investing my time into!!! 1 year into the business I was making what I was as a full time teacher, I had 2 star diamond coaches under me rocking the business and my team just kept GROWING and I was able to finally take the pressure off my husband and pay the bills and take care of our kids all while getting in the best shape of my life and helping others reclaim their life! 18 months into the business I was now making double my teacher salary, help 2 of my coaches reach financial goals, and get my whole family 100% on board with what Beachbody was all about (dad, brother, and mom) Now the last 6 months have truly been priceless!!! I have had some of the LARGEST and most REWARDING transformations on my team, I became an Elite coach, Won a FREE trip to Disney for me and my family, and possibly a photo shoot for my results with beach body programs- AMAZING to say the least!!! Did I think I would be here when I signed up 2 years ago? NOPE i would have laughed in your face… But there was no stopping me when I started, I wanted this business to work for me and my family and I had to prove to myself and to those who believed in me I could do it!!!! Financially I am paying off my debt (over $16,000 in CC alone, plus Student loans and Mortgage) but I will make close to if not over 6 figures this year by Helping people reach their emotional, financial, and physical goals= GUESS WHAT? Those things are more rewarding then the money because I can do it all in the comfort of my home, WHILE raising my kids and helping people be happy with themselves and who they truly are!!!!!
If you could achieve anything…. what would it be????
I would not be where or who I am today without my team, family, and challengers! My mentors that have been my #1 support and my coaches that have stuck it out with me =) DREAMS COME TRUE!!!!!!!! When you Join The Dynasty – Team Resurrection Chapter
Message Me Now to see how you can join this Journey =) Join Today!