Meet Colleen G.! She is an amazing, mother, coach, and women! I have had the honor to watch her on this amazing journey! Are you a picky eater or having trouble with eating healthy?
"Since starting my challenge group I've been struggling to eat healthier and "cleaner" so I decided to do the ultimate reset in hopes of breaking my bad eating habits. I've always been a VERY picky eater and would never try new things. I committed myself to trying every meal almost all of which I have never had before. Everynight I prepped all my meals for the next day so I had no excuses not to stick to the plan. I had days where I was hungry bc I didn't like the meals and I had days with way too much food. I had days where all I wanted to do was sleep and days with so much energy I could have run a marathon. The biggest changes I noticed were at night with my sleeping, I got the best sleeps I have in years and wake up with the energy to get through my day without feeling tired midday. This was such an amazing experience and I have found so many new foods that I like and will be eating all the time from now on!! I crave veggies now!! I lost a total of 15.5 lbs and 11.5in. Off my body during my reset journey!"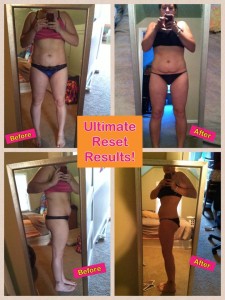 I finished the ultimate reset…such an amazing journey. I encourage everyone to give it a go when they are ready to do so!!! I lost 15.5lbs and 11.5 inches off my body in 21 days!! I passed up all my goals I set for myself on my team beachbody page!!! I feel amazing!! My results since starting my whole process….I've lost 40lbs and 28.5inches and from size 16 to an 8!!!
Join the Challenge
Comments
comments