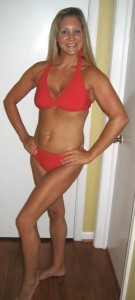 My Stats

BEFORE
AFTER
Weight
227
140
Dress/Pants Size
18
4
Waist
36
28
Hips
45
36
Chest
42
32
Right Arm
16
11
Left Arm
16
11.5
Right Thigh
19
18
Left Thigh
19
18
Body Fat %
36
20
Blood Pressure
121/83
117/75
as-of
08/02/2011
Stephanie M.
Lost 87 lbs. and 9″ off her hips.
Thanks to ChaLEAN Extreme . . . my muscles are toned and sculpted in a way I never thought possible.
What Stephanie M. won:
$1,000
Tell us about your life before you started the program. How did you feel about yourself and your body?I started struggling with my weight in my 20's, and after two pregnancies it spiraled out of control. I was ashamed of how I looked, but too tired to do anything about it. I went back to work full time after the birth of my second son in 2008, and was the heaviest I've ever been – at 227 lbs on a 5'7 frame. My youngest son did not sleep well through the night, so I was functioning on only 2-3 hours of sleep while working 45 hours a week. I was exhausted, emotionally and physically. I was depressed and too tired to care, but deep down I did care. A lot. I turned to food to help me cope, and before I knew it I was binging on cookies and cake to help numb the pain.
What inspired you to change your life and begin your transformation journey?I was sitting on my kitchen floor at 2am eating a cupcake, as I had just gotten the baby to sleep again. That was my reward to myself. I ate it in 2 bites, and as I stared at the empty wrapper, I started to cry. What was I doing to myself? My kids deserved a healthy mom. Why would I want to deprive them of that? I couldn't even chase after my oldest son in the back yard. I knew then that I needed to change, for them and for me.
Why did you choose the particular program?Muscle burns fat! When I heard that phrase from the program, I was intrigued. I was always scared to lift weights, because I didn't want to bulk up. I liked Chalene's philosophy, and with sucess from Turbo Jam and Turbo Fire, I knew I couldn't go wrong.
What in particular did you like about the program you chose?The sense of empowerment that I feel every time I lift those weights. I love how Chalene takes the time to teach you the proper form. Form is key and makes all the difference!
Tell us about the greatest challenge you faced. How did you overcome that challenge?I was losing weight and feeling great, then this past February my family received news that would forever change our lives. My 2 year old nephew was diagnosed with Medulloblastoma, an aggressive type of brain cancer. I felt that same pain coming back, and the numbness was trying to set in. I didn't want to exercise or eat right. I kept thinking "why should I? What does it matter?" We went to see him the night he was diagnosed. He was sitting up in bed with the brightest smile, pushing his truck. My heart was breaking and tears were streaming down my face, but he was able to smile and be happy.Given a survival rate of 25%, St. Jude's accepted him with open arms. He is in his 7 month of treatment there, and after the successful removal of the tumor, all of his scans have come back clear! My nephew is facing a challenge that no one should ever have to face. He helped me gain my perspective & find my inner strength again.
Describe the results you achieved with your Beachbody® program. What achievements are you proud of?At 31 years old, I am in the best shape of my life. Thanks to Chalean Extreme, I have lost inches all over! My muscles are toned and sculpted in a way I never thought possible. I am lifting weights that I never thought possible! This program has changed me both physically and mentally. The sense of empowerment I feel when I lift weights is almost undescribable. Chalean Extreme not only changed my body, it changed my life!
DO YOU WANT THIS OR NEED THIS FOR YOUR BODY AND LIFE?!?!? MESSAGE ME NOW, SO WE CAN GET YOU STARTED =)
Comments
comments