So Many times I hear… Well, what do you do as a coach, how do you get paid, and how will you help me stay accountable. TODAY IS YOUR LUCKY DAY!!!! You have the opportunity to get on a call, from 9am to 5pm PST and listen from other beachbody coaches on what we do to help you, how to keep you engaged, and how we can help you make money while getting fit and healthy!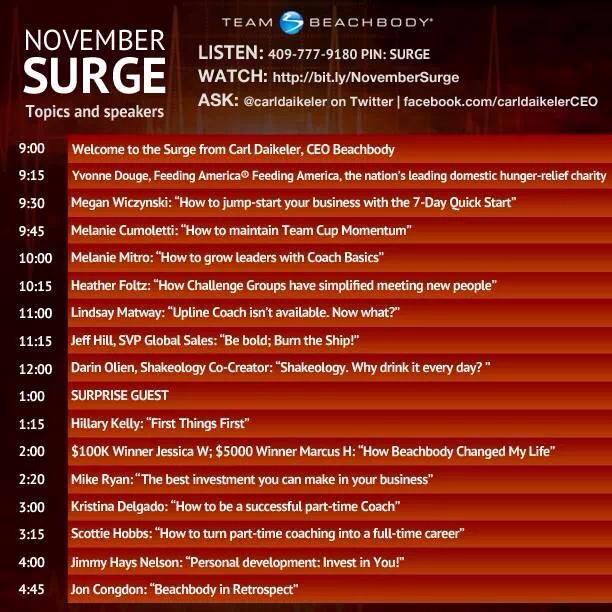 NOVEMBER SURGE BABY!!GET FIT *HELP OTHERS*GET PAID
How many chances do YOU get to directly hear and learn from the founder and CEO of a $600 million dollar company??
TODAY IS YOUR LUCKY DAY…its GAME ON as Beachbody CEO Carl Daikeler spends 8 hours answering questions and interviewing dozens of top coaches.
YOU SHOULD LISTEN IF :
*YOU ARE LOOKING FOR A WAY TO MAKE INCOME IN THE FITNESS INDUSTRY BY HELPING OTHERS WITH YOUR PASSION
**YOU HAVE CONSIDERED BECOMING A COACH AND ARE ON THE EDGE WITH SOME UNANSWERED QUESTIONS
**YOU ARE ALREADY A COACH AND ARE WANTING THE BEST ONE DAY TRAINING YOU CAN GET
**YOU ARE A COACH THAT HAS NEVER HEARD THOUGHTS AND IDEAS DIRECTLY FROM CARL OR THE TOP COACHING LEADERS
*YOUR A LONG TIME COACH THAT NEEDS TO GET OR STAY ENGAGED
"OUR MISSION IS TO HELP PEOPLE ACHIEVE THEIR GOALS AND LIVE A HEALTHY FULFILLING LIFE"

POST BELOW IF YOU GET ON…. WHat is your take away?
Contact me
after the call and lets discuss how we can get you
started
! nminton24@gmail.com
Comments
comments