ARE YOU READY FOR SUMMER?!?! 
How many of you vacation frequently in the summer or even for Spring Break?!?! I know my family and I go on 2-3 vacations each summer and this year I WILL FINALLY FEEL CONFIDENT IN MY SWIM SUIT!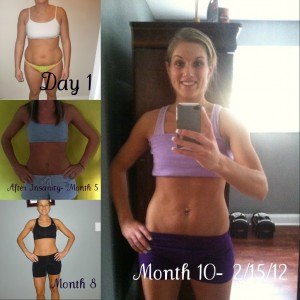 THIS has been my journey for the past 10 months! I have had the best support system, fitness and nutrition to get the results I have!
FITNESS + NUTRITION + SUPPORT = SUCCESS
I am starting my next Fitness Challenge May 21st – JUST IN TIME for SWIM SUITS!!!!
My Challenge will Include the 90 day commitment of a Fitness Program of your choice (P90X, Insanity, Turbofire, Chalene Extreme, just to name a few), Shakeology (Your nutrition- a healthy meal replacement shake with 70+ natural ingredients that will help your health, boost your energy, and Lose weight (if needed)), AND the SUPPORT from an accountability group and ME (daily health tips, motivation, and support)
IF YOU ARE INTERESTED EMAIL ME ASAP!!!! OR Sign up for a FREE Membership and order your CHALLENGE PACK TODAY!!! (This will secure your spot) I will FINALIZE THE GROUP ON MONDAY May 14th!!!!!!
I hope you consider the group atmosphere for support and accountability with doing your workout in the comfort of your home!!!
SUMMER IS RIGHT AROUND THE CORNER!!!! I HOPE YOU ARE READY! I WILL BE =)
Comments
comments