How many of us grab pizza friday nights??? I know pizza is a HUGE downfall in my house! It is easy and convenient and what kid does NOT love pizza? Well I found a way to make a quick pizza and have fun with the kiddos as we do it!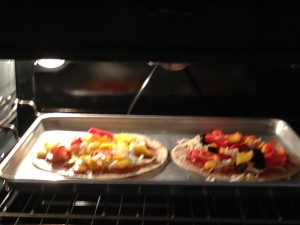 Super yummy!!! I set the oven to 405 and get everything out! I make my own tomato sauce and that is what we use for our "pizza sauce" but they have all natural pizza sauce- or you can use Extra Virgin Olive Oil with some garlic for a white pizza!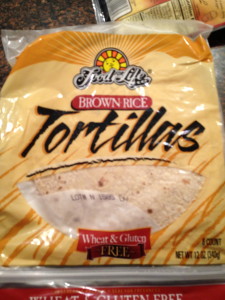 I use Brown Rice Tortillas for the crust or you can make a cauliflower crust!
Then we cut our veggies or whatever you want on it! its fun to let the kids put on their own ingredients!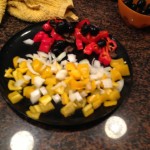 Take your Tortilla and put your sauce on…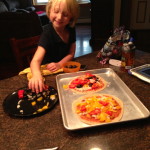 Then let the kiddos put their ingredients on!
Then you put into the over 10 min- or until cheese is melted or veggies are soft!
It takes 15-20 minutes TOPS and is a VERY healthy alternative to PIZZA!!!!!
Post below your favorite part of making your our pizza!