Clean 3 Bean Turkey Chili
This delicious dish is GREAT for cold, snowy/ rainy days, for football parties, or just for a great comfort dinner! And it is HEALTHY for you!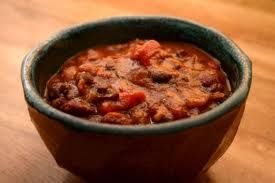 Ingredients:
1 Pound Ground Turkey Meat 1  Green, Red, Yellow, and Orange Pepper -diced 1-2 Red Onion, diced 1 can of Diced, No salt added, Tomatoes (2 cans if you like it with more tomatoes) 1 Can of Kidney, Pinto, and Black Beans (If you like less beans just use one can of which ever you prefer!) 1 bag of steam fresh corn 3 cloves of garlic minced, or 1 tbsp of garlic powder 1 tbps of Light Chili Powder, or 1 Package of Chili Seasoning      
Put all Ingredients into a Cock Pot/ Slow Cooker and let it cook!
On high for 3 hrs or on low for about 8 hours!
ENJOY!!!
Comments
comments