Core De Force is AMAZING!!!! I am so happy to have been starting this program, it makes me SOOOO excited to wake up and KICK BUTT!!! Are you doing Core de Force? JOIN MY GROUP!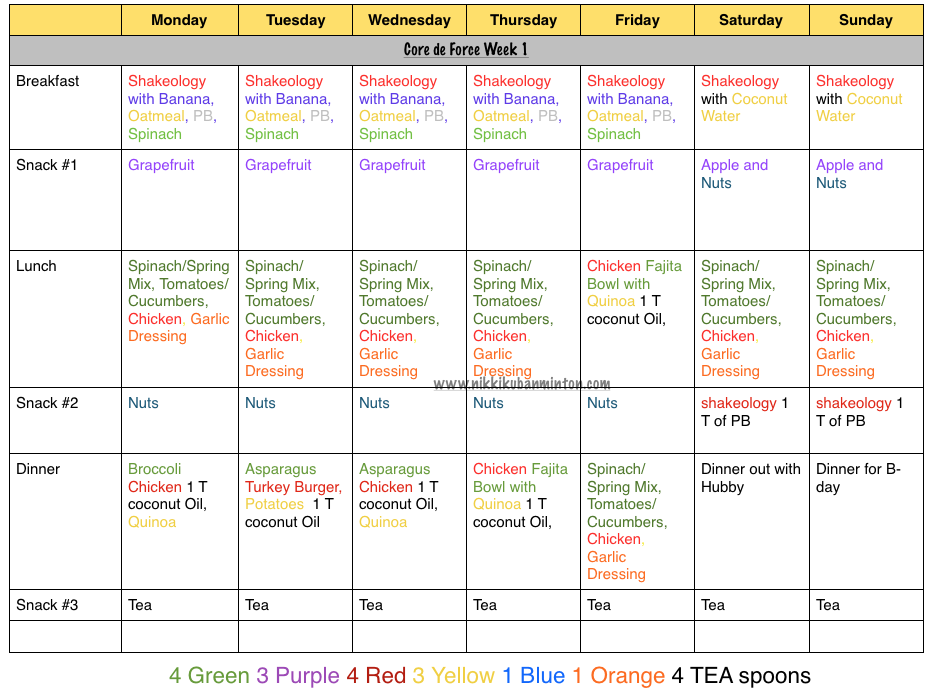 Ok so- When I went to make my meal plan, as always I had to Calculate my caloric intake which is STEP #1: page 1 in the Book: Your Weight x11= Calorie Starting Point, take your starting point and +400 = Maintenance Calories, then take your Maintenance Calories and -750 to get your TARGET Caloric intake
STEP #2 – Take the number in the last field above and look below to see which nutrition plan you should follow. ( I am following PLAN B @ 1659 calories and Chris will be at PLAN C with 1805 calories)

STEP #3 – Now that you know your PLAN from above.  Now you can see the number of servings you need per day following the CORE DE FORCE Nutrition Plan. This follows the winning nutrition of 30% Protein / 40% Carbs / 30% fats which have been the fuel behind a lot of successful results.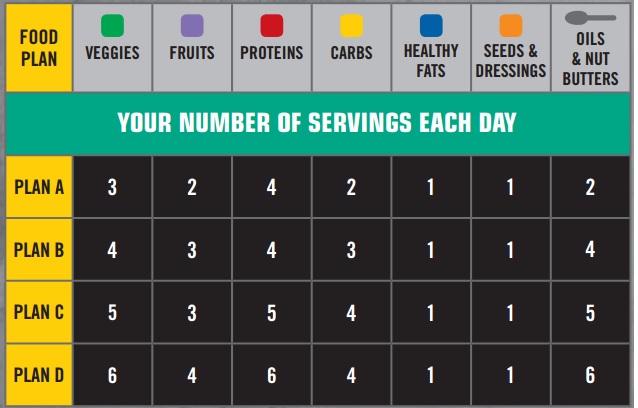 You can track your daily nutrition with THIS GUIDE that can be printed for your use!
IMPORTANT Difference with the CORE DE FORCE Nutrition Plan!!
You may have used the INSANITY Max 30 Nutrition Plan or the 21 Day Fix Meal Plan, but this one is a bit different!
Here is the big difference:
The above plan and servings are considered your "BASELINE". Keep that in mind as we discuss this next part…
On WEEK #2 – Add an extra FRUIT (Purple Container) serving every day
On WEEK #3 – Keep eating the extra FRUIT (Purple) and add an additional HEALTHY FAT (Blue Container) serving every day
On WEEK #4 – Return to your BASELINE serving from the above calculation.
Why this change?
I think it's brilliant! According to the guide, as the workouts intensify, your body needs more fuel! Gradually increasing your calories with "energy foods" like fruit and health fats keeps your metabolism firing and plateaus stay at bay. When you drop those calories back down in Week 4, your body is primed to accept the deficit, which translates to killer results at the end of the program.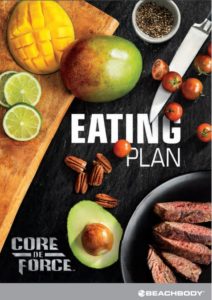 As we go through this together, I am looking forward to seeing what this change-up will do for us!