So I needed to find an easy and fast way to have breakfast done for my husband when he works early and a friend of mine had posted a picture of Egg Muffins and I said those look really good, BUT I was so unsure on how they would re heat! SO I HAD TO TRY THEM AND THEY TASTE AS GOOD HEATED!!!!!!
To start Preheat oven to 350°  and Spray (I use EVOO) muffin tins. (Or use muffin liners).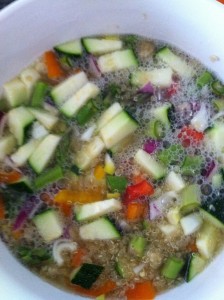 Then you Add and Mix all ingredients in a bowl.
32 oz of Egg Whites
1 Cup Quinoa (seasoned with garlic and onion powder)
1/2 cup of peppers, diced
1/4 cup onion diced
1/2 cup of Zucchini diced
1/4 cup (5) asparagus diced
1 cup of Ground Turkey (already cooked- actually left over turkey burger)
OPTIONAL cheddar cheese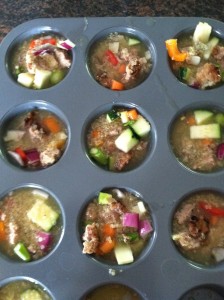 Next fill muffin tins 3/4 full.  Sprinkle with cheddar if desired.
Bake for 10-15 minutes, until knife comes out clean. Allow to cool. Muffins will "deflate" as they cool.Place muffins in baggies and toss in fridge. To reheat, microwave for 30 seconds (1 min. for 4 muffins). (This recipe makes 24 egg muffins)
Serving Size: 2-4 (each muffin contains less than 1 egg and about 100 calories).
Substitutions… the original recipe used Eggs & Canadian Bacon. You can add or remove veggies, or meats or seasonings as you like. You can add more Egg Beaters if you prefer a more egg-y muffin.