I am currently doing Insanity and on day 45 I took a picture of my stomach/abs, I thought maybe I could see a difference! Well my husband said there is for sure a difference so now on day 53 I am posting my Day 1 Insanity and my Day 45!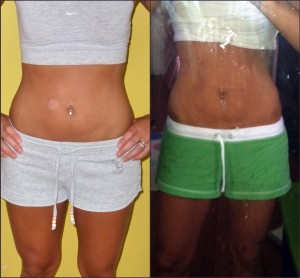 I can honestly say, Insanity is BANANAS!!!! Shaun T is a NUT! I LOVE IT, BUT IT IS SUPER HARD! I have to eat almost 600 more calories than I did with P90X which is VERY HARD!  I am doing it and only because of the support from my husband and team! If they were not behind me I would probably not be were I am in the picture to the right!
Are you struggling to get a workout in or even the motivation to do a workout? Contact me! I will get you off the couch and headed in the right direction to a NEW HEALTHIER YOU!
nminton24@gmail.com
beachbodycoach.com/nminton24
Comments
comments